Sunday, April 17, 2005
The adoration of the grandchild
Wednesday, April 13, 2005
Easter pictures
Thursday, April 07, 2005
Bathtime
Saturday, April 02, 2005
Dog and child
So much for "about once a week". It's been 2 1/2 weeks since the last update. Thanks for being patient.
We had a comment (please keep them coming!) asking for a picture of Chloë with Gomer, so here are two. As you can see, they are now getting on very well together. Chloë is no longer scared of Gomer, and has even petted him a couple of times (swiftly followed by squeals of delight at how brave she's being). Gomer seems to recognise that she needs to be treated more gently than the full-size adults in the house, and only knocks her off her feet once or twice a day, which she tolerates quite well.
Last weekend we went to Ohio for Easter with Stacy's family who got their first look at Chloë. I'll post some family pictures next. This weekend we are preparing the house for the arrival on Friday of my parents for 9 days of intensive grandchild-adoration. I'd better stop now and get on with clearing the junk out of the guest bedroom. Here are the two junior members of the household enjoying a quiet moment.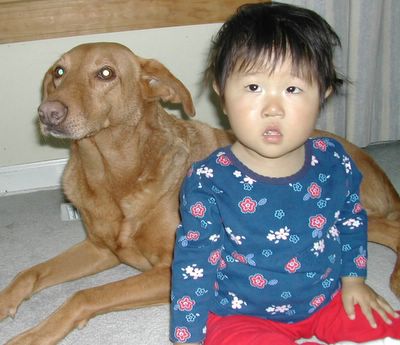 Gomer soon gets bored with quiet moments, and reverts to his favorite activity of licking himself. Consider yourselves fortunate that it's just his leg this time.