Monday, February 28, 2005
Smile
Sunday, February 27, 2005
A Sunday morning stroll
This morning we all slept in a little. Stacy put in 13 solid hours last night and is feeling much better. After a late breakfast we went for a walk. We took some laundry to one of the many enterprising little shops down the street (for half of what the hotel charges), and then as it was raining we decided to explore the White Swan Hotel, on which more later.

Our hotel has a number of strollers (pushchairs) available for loan, some of which were donated by previous Sunny Ridge visitors. At this stage it's really better for Chloë to be carried by one of us in order to reassure her and promote bonding, but my shoulders needed a break from the Snugli, so we decided to borrow one and test Chloë's reaction to a short trip. She seemed to enjoy it so much that she showed her appreciation by nodding off on the way back to the hotel.

Now, on to the latest pictures, which I've been told are more interesting than my purple prose. I have adjusted the blog settings so that the pictures are higher resolution, both the in-line pictures below and the ones you get when you click on the images. This will increase both image quality and download time, so please be patient.

Me with the stroller. Do I look American enough, or should I get one of those big cigars?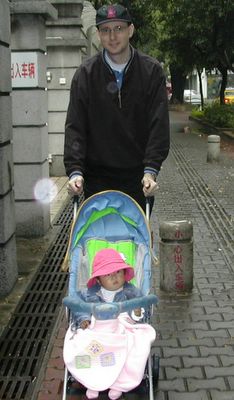 Stacy and stroller



There are several bronze statues on the island. I'm sure this one has been photographed many times. It is titled "Chinese Knot". Flattering it ain't.



Exhausted after a short ride.



Over the last 2 or 3 days Chloë has been smiling and laughing more and more. Anything that drops on the floor is apparently hilarious. To prove it here's a smile...



...and a giggle.

Saturday, February 26, 2005
Hello Guangzhou...
...or may I call you Canton? It's strange how we still refer to Cantonese cuisine and Pekingese dogs when the romanized spellings of the source cities have long since been converted to the more accurate Beijing and Guangzhou using standard Pinyin. Anyway, here we are in the Guangdong Victory Hotel. The telephone number is +86 20 8121 6688 and we are in room 8406. Again, please see the "Telephones" post from a couple of weeks ago for a reminder of the time zone differences if you want to call us. As in Nanchang we have free broadband internet in the room, so blog updates and low-cost phone calls with Skype are possible. You can make a quick cheap call to the room and we can call you back. The switchboard operator speaks enough English to put you through.

At the hotel we reunited with Bob from the agency and the other two group members who have adopted in different provinces. Everyone seems to be doing very well, and it was good to see them all again. Late tonight the husband of one of our lone travelers will arrive. He is flying in from the US at short notice (and considerable cost) to support her as she continues to deal with her baby's medical issues.

Today we have established:

(1) that Chloë is happy to fly. She played with me happily throughout the hour-long flight from Nanchang this afternoon. Some light turbulence bothered me more than it bothered her. This is a comfort given the gruelling 3-leg 22-hour journey we face on Friday.

(2) that Chloë is a big fan of Thai food. We had a group dinner tonight in a Thai restaurant adjoining the hotel. It seems like she ate and drank more in one meal than she has had over the entire week. I think we will be frequenting our local Thai restaurant.

Yesterday evening Stacy finally succumbed to the same stomach bug that has afflicted most of us at some point during our time in Nanchang. She was over the worst of it by the wee hours, and was a weary but game traveler this morning. She was exhausted when we got to the hotel and went straight to bed, so just Chloë and I dined with the rest of the group. We don't know if it's the water (not that we drink from the tap) or the food, or whether we have caught it from the babies or from each other, but everyone has had more or less the same symptoms. Fortunately no family has had both parents down at the same time: I had my session in the bathroom on Wednesday night.

More on the Guangzhou experience soon.
Friday, February 25, 2005
The Divine Miss C
As you may have imagined, Chloë has both of us firmly entwined around her little finger. We are besotted, adoring, doting: any soppy word will do.
After a couple of days of shell shock, her real personality is starting to emerge. She is quite the independent little miss, wanting to puzzle things out for herself. It didn't take her long to figure out how to open the Ziploc(tm) snack pack of Cheerios(tm). We've left a trail of those toasty little "o"s through the hallways of the hotel and behind the cash registers at Wal-Mart(tm). The others in our group have dubbed her "Chloë-o" for her cereal passion.
It's a good thing we found something she likes because she is finicky about what goes in her mouth. She shakes her head "no" and pushes away unwanted items with the back of her hand. It's quite an imperious gesture and I'm certain she was the Empress of Jiangxi in a previous life. Things that have been royally refused include: watermelon, peaches, apples, pineapple, banana, pears, raisins -- do you see the trend here? This kid hates fruit. Aside from Cheerios, the one food she is enthusiastic about is tofu. Yum, yum -- my least favorite food, but I'll be looking for a good tofu in brown sauce recipe when we get home.
This morning she realized that all these brightly colored pieces of plastic otherwise known as toys are for her, and she had great fun flinging bowling pins off the bed. She also gets a charge out of investigating the contents of a tissue packet. Like a magician doing a trick with scarves, she just keeps pulling them out and pulling them out until she's amazed by the empty packet. We leave a trail of tissues (Happy Dog by brand name) wherever we go, too. We will be funding her education by purchasing stock in General Mills and Kimberly Clark.
Although John was almost instantly accorded "Most Favored Parent" status, she has been slower to warm up to me. She's had a lot of women in her life let her down, so it's understandable that she would be hesitant about trusting yet another. She's started looking at me with more puzzlement than suspicion and has actively reached out for me to pick her up, but she's still happier in Daddy's lap than mine. John has risen to the occasion and is totally engrossed in parenthood. He's mastered the art of balancing a toddler on his knee and feeding her while drinking his own coffee and has even tackled the dreaded diaper task -- but not the one after she ate an entire jar of sweetcorn. Some things are still Mommy's domain.

Some pictures from Nanchang's Renmin Square

The Hall of Exhibitions is in the background. The dragon tried to eat Stacy's hair, but we fought him off.


The monument celebrating the founding of the People's Liberation Army. Inscribed on the base is the date, 1927-8-1. This, along with many other things in Nanchang, is named after this date: "Bayi" (ba=8, yi=1). Bill just pointed out something obvious to us: Chloë's birthday is also August 1st, so she is our Bayi baby.


Self-portrait. A tradition of mine for many years, usually with other people's cameras when they're not paying attention.


One of the two dragons in the square for the spring festival. On the left is a tree wrapped up against the winter cold. On the right is an abomination.


The other dragon. In the foreground, roped off and under glass, is the patch of land where the army was founded. Or something like that. I really have no idea. It was all in Chinese, you see.

Thursday, February 24, 2005
Some interesting signs

I'm almost ready to brush my teeth in the Room of Wetness before going to sleep in the Chamber of Darkness.


This was on the outside wall of our hotel in Shanghai.


Pernicious garbage?


It didn't look that old to me.


This sign in the park cycled through various displays, including this one that for some reason told us the noise level. I'm kicking myself now for not shouting at it when we were there.


We think this is a sign promoting the "one birth" policy and emphasizing that it's good to have a girl. No argument here.


A "rollback" sign in Wal-mart. I fear it's asking too much for them to roll all the way back to Arkansas.


Outside a KFC in the town square in Nanchang. There are at least 7 branches of KFC here.

A visit to the park
This picture was taken on Tuesday in a park around the corner from the hotel. Note the ever-present bag of Cheerios that Stacy has at the ready.
Despite the ease of getting connected, somehow it's been hard to find time to post updates here. Chloë is a full-time job, especially for inexperienced parents. Just remembering all the basics to go and eat in the hotel restaurant is a struggle. Bib, spoon, wipes, water cup. Sounds simple, but for some reason we always forget something.
So, a brief recap of the last few days: on Tuesday we had a few expeditions. We walked a couple of miles around the neighborhood in the morning, came back to the hotel for lunch, then in the afternoon we went to (cough) Wal-mart, which has a big store right on the the main town square. More interesting than Wal-mart was the display of dragons in the square for the spring festival (Chinese new year). I'll post some pictures separately. We wandered around Wal-mart with the hordes, but we tried to spend as little money there as possible. I'm not a fan of the company and the way it operates, so I try not to shop there in the US, and it seems even worse to do business with them here. Still, it was a fascinating experience, as many things tend to be here, with a lot that's the same as the US and a lot more that's different. Our main purchase there was a box of Cheerios, which seem to be Chloë's favorite food. (She'll fit in just fine in the US, I think). We brought a lot with us, but she's eaten them all already.
Now it's Thursday evening, and most of the group felt the need for a quiet day in the hotel today with nothing much planned. Tomorrow Bill, the agency employee who lives in China and travels with the group, will collect the birth certificates and passports from the police station, and then we'll have everything we need for the next leg of our journey on Saturday. Everyone in the group is looking forward to Guangzhou: temperatures there should be about 65F rather than the fifties that we have had in Nanchang, and there is an extensive support system for adoptive parents in the vicinity of the US Consulate there, with shops selling a lot of useful goods such as American-made diapers. (We haven't bought any of the Chinese ones: they are said to be acceptable but not as leakproof as the ones in the US).

Monday, February 21, 2005
It's official
This morning we went back to the adoption affairs office and completed some paperwork, then went on to the notary for even more. It was all pretty straightforward, and as of about noon we are officially Chloë's adoptive parents as far as the Jiangxi Province officials are concerned. By the end of the week the Chinese bureaucratic wheels will continue to turn (without any direct involvement from us) and by the time we leave Nanchang on Saturday we should have a full set of paperwork, the most important items being a birth certificate and Chinese passport for Chloë.

Chloë is taking her lunchtime nap now, as is Stacy, giving me time for this longer post. She is doing very well. She seems to prefer me to hold her rather than Stacy, but the important thing is that she is happy to be held at all. The director of the welfare institute told us at placement that Chloë eats adult food and doesn't care for congee. She ate eggs, steamed bread, watermelon and rice at breakfast, and has been snacking on Cheerios all day. Given the problems we have been warned to expect, we couldn't be happier with the way everything has turned out so far.

The other families in our group are mostly doing well. A couple of the babies have some health issues, but these are being dealt with locally and we expect that they will all soon be well.

We are staying at the Gloria Plaza Hotel in Nanchang, which is brand new and very comfortable. There's even free high speed internet in the room, so it's easy to post these updates. The hotel phone number is +86 791-673-8855 and we are in room 1024. Everyone in the hotel seems to speak English so you should be able to get through the switchboard. (Please remember the time difference: see the end of the "Telephones" post.)

There's plenty more to tell, and we'll try to fill in some of the gaps over the next few days.
Playtime

This picture was taken early Sunday evening in the hotel room, about a couple of hours after we returned from the placement expedition.

Gotcha

Our placement took place yesterday afternoon at the local government's adoption affairs office. This is our first picture. Chloë is fine: a bit of a runny nose, but nothing that warrants breaking open the miniature branch of Walgreens that we brought with us.
Post times from now on will be in local Chinese time.

Saturday, February 19, 2005
Shanghai
We arrived safely on Friday afternoon Chinese time with less than an hour delay. It's now Saturday evening, and after a short but oblivious night on a pair of firm twin beds, we have spent the day with the rest of our travel group touring the sights. Shanghai's historical treasures are few, and I think we saw them all. Most of modern Shanghai is newly built in the last couple of decades.

Shanghai sees snow once in a blue moon and Jenny (our guide) says people are generally excited about it. The twenty or so young men dressed in blue uniforms with red sashes gathered on The Bund didn't seem to notice the snow as they set off on their organized morning jog. Were they a running club? Office workers participating in a team building event? Who knows – we certainly couldn't read the writing on their Miss America sashes. We could, however, easily identify Postman Pat as he rode his bicycle down the sidewalk, letters balanced precaiously on a carrier at the back. We followed him off the beaten path and down a "snickleway." Such a contrast to the modern face of Shangha . Jenny told us of a saying, "If you want to know China's past, go to Xian. If you want to know China's present, go to Beijing. If you want to know China's future, go to Shanghai." In some aspects, we could be in any big city – McDonald's, Starbucks, UPS, Pepsi, even Culligan Water logos are all around. There's a place where you can charge up a cell phone while standing on the street, with dozens of dangling cables ready for any brand of phone.

We started our tour at the Oriental Pearl TV Tower in the Pudong section. It's the highest tower in China and the third highest in the world. The Chinese belief is that pearls falling on a jade plate are lucky, so it's designed to look like 13 pearls with the building at the base and the surrounding walkways as the plate. Great views of the city from th observation deck, and the obligitory tacky souvenirs. There was even a replica of the Eiffel Tower for sale. Go figure. At one of our travel meetings, those who had been here before were discussing the smells of China. There's a different one at every bend. Some are pleasing, some are off-putting, but all are distinct. It's as if each odor carved out a niche of airspace to hang out in – there's a definite beginning and ending to each one. It's easy to see why smell is the most evocative sense.

The other strong memory of Shanghai will be of the cyclists. Many drag their version of a "U-Haul" behind their bikes and it's amazing what they can stash in them. One poor man was struggling to pedal because he was loaded down with jugs of water and I swear we saw the contents of a two-bedroom house go by last night. These people are brave, as bus drivers (ours included) take no prisoners when rounding corners or changing lanes. Foreigners aren't allowed to drive in China. There were times today when we wondered if they should even be allowed to cross the street – pedestrians have no rights.

There's a lot more to say about Shanghai, but not much time left before the hotel's computer center closes, so on to more important things. We learned today that our placement (our "gotcha" moment) will happen not on Monday as we thought, but at 3pm tomorrow (Sunday), only a few hours after we arrive in Nanchang. We were expecting to have a day to settle in and get ready, but we are thrilled to be getting her a day earlier than expected.

More soon, if we can get connected in Nanchang, and we hope to post pictures too.
Monday, February 14, 2005
Modelling the look

OK, it's not a real baby, and it certainly doesn't weigh 18 pounds, but it was the closest thing at hand with which to practice wearing the Snugli we picked up at the last Sunny Ridge used baby equipment sale. (Yes, I know what that says, and you know full well what I mean, so behave). The bear was probably easier to install in it too. Someone once told me that getting a toddler dressed is like trying to stuff an angry octopus into a string bag.